That's right! We're blogging! Granted, it only took us a few years to get this going but, hey! Better late then never! And it's not like we ladies have been sitting around painting our toes!
Time permitting, periodically we're going to post information that we believe will be useful to Realtors (and any others that have an odd obsession with the real estate title and settlement business). This will include news of proposed legislation that might impact our industry, new tools that we learn about that we think will help Realtors, interest rate forecasts, housing and mortgage trends and any other little tidbits that we believe will help our Realtor friends.
We also want to address any closing questions you might have. To that end, at the bottom of every post – including this one – we'll provide a "comments" box where you can submit whatever questions or comments arise. We'll do our best to answer them promptly either by direct email or with a future post.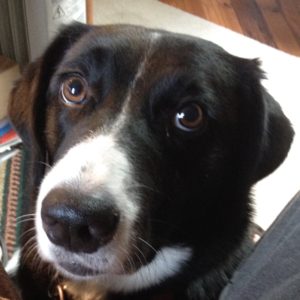 Occasionally, the Wonder Dog will make an appearance (as she does here to the left). She is usually pretty quiet and hangs out either with us girls in the office, with Mom at The Kitchen Island or with Dad in his office. She may not know on which side of the Closing Document a particular entry should be placed but I assure you that by 6 PM of a long day, her presence and undying love sure makes it easier for all of us!
So, welcome aboard! We're hoping to have some fun with this as we offer what we think might be useful info for the Realtors in our world.
Thanks for reading this one. The next one will give you some information that you might actually be able to use!
Wanda
…and the Wonder Dog